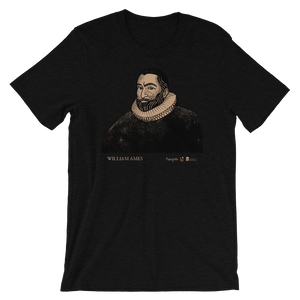 William Ames T-shirt | PURITAN Collection
Regular price
Sale price
$ 25.00
Tax included.
---
PLEASE NOTE: Media Gratiae works with a fulfillment partner to print and ship our orders. We're in regular communication with them for the latest updates on what's going on.
Our fulfillment partner is still operating and we're continuing to accept orders. Fulfillment and shipping will take longer but your order will reach you. According to the latest update, fulfillment could take 22-27 business days.
This is a difficult time for everyone and we thank you for your patience. Your support means a lot to us.
ABOUT
William Ames was born in 1576 at Ipswich, Suffolk, then a center of the robust Puritanism. Ames's influence was perhaps greatest in New England, where his Marrow became the primary text at Harvard and was often and read and quoted throughout the colonies. Then, too, his writings on church issues laid the groundwork for non-separating Congregationalism in New England, a movement that maintained that the Congregational churches of Massachusetts Bay Colony ought to support the further reformation of the Church of England rather than separation from it. The Cambridge Platform of 1648 in particular reflects Ames's thought. Cotton Mather called Ames "that profound, that sublime, that subtle, that irrefragable—yea, that angelic doctor." Ames's influence was also great in the Netherlands, where he became known for his opposition to Arminianism. He influenced Dutch thinking in many ways, especially in his development of casuistry, that is, how to deal with specific "cases of conscience." Gisbertus Voetius, professor at Utrecht, was profoundly influenced by Ames's ideas. Petrus van Mastricht also drew heavily on Ames, particularly his covenantal thinking and casuistry. Nearly all of Ames's books were printed in the Netherlands, many in Latin for the international scholarly community. The Marrow of Theology and Conscience with the Power and Cases Thereof were soon both translated into Dutch and reprinted at least four times in the seventeenth century. Ironically, Ames was least influential in his homeland of England, although there, too, he was considered Perkins's most important disciple and heir. Ames's major works were widely circulated, and influenced Calvinistic theology in England throughout the seventeenth century. His Marrow was particularly highly esteemed by the Puritans. Thomas Goodwin said that "next to the Bible, he esteemed Dr. Ames, his Marrow of Divinity, as the best book in the world."
- from "To God's Glory: Lessons on Puritanism" by Joel R. Beeke and Nicholas J. Thompson

DETAILS
• Printed on Bella + Canvas tees
• 100% combed and ring-spun cotton (heather colors contain polyester)
• Fabric weight: 4.2 oz (142 g/m2)
• Shoulder-to-shoulder taping
• Side-seamed
SIZE GUIDE
| | | | | | | | | |
| --- | --- | --- | --- | --- | --- | --- | --- | --- |
|   | XS | S | M | L | XL | 2XL | 3XL | 4XL |
| Length (inches) | 27 | 28 | 29 | 30 | 31 | 32 | 33 | 34 |
| Width (inches) | 16 ½ | 18 | 20 | 22 | 24 | 26 | 28 | 30 |